DELUXE PLANS FOR A WEEKEND BREAK IN MADRID
A weekend break in Madrid means enjoying a few unforgettable days to appreciate its attractions. The capital attracts millions of tourists all year round, and they return home having fallen in love with the city's streets, monuments and sights.
Madrid seduces you with its beauty, but also with its nightlife, and there are many outstanding options amid its unparalleled cultural activity, delicious restaurants and thriving street life.
We would like to invite you to enjoy a weekend break in Madrid with some five-star plans to suit all tastes.
Delicacies of Madrid for the five senses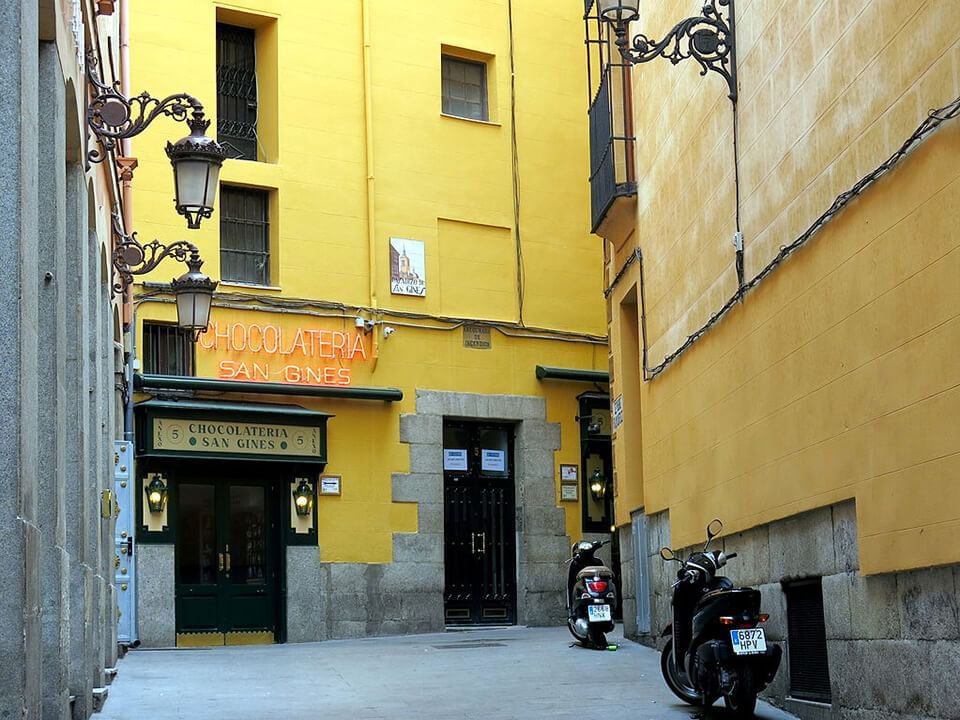 We can assure you that a visit to Madrid will convince you that the capital's food is a delight for your palate.
You can find delicious flavours at any time of the day. If there's one thing you simply have to try on your city break in Madrid, it is the delicious Churros with chocolate on sale at the renowned Chocolatería San Ginés. It occupies an ideal location, close to the Puerta del Sol and Plaza Mayor, and has been selling the best chocolate con churros in Madrid since 1984.
Mid-morning is the perfect time to enjoy a relaxing cup of café con leche in one of the open-air cafés in the Plaza Mayor, a must-see for anyone who wants to get to know the city. If you would prefer something more savoury, we advise you to try any of the tapas bars in any square and order a beer with a tapa.
You will find fantastic restaurants open at lunchtime and dinner time that offer wonderful traditional meals like the Cocido Madrileño, but if you fancy something a bit different, check out some of the local markets. In San Miguel Market, in the square of the same name, you can take a gourmet tour of the different parts of Spain by trying some of the many delicious tapas on offer.
Essential visits for lovers of history and culture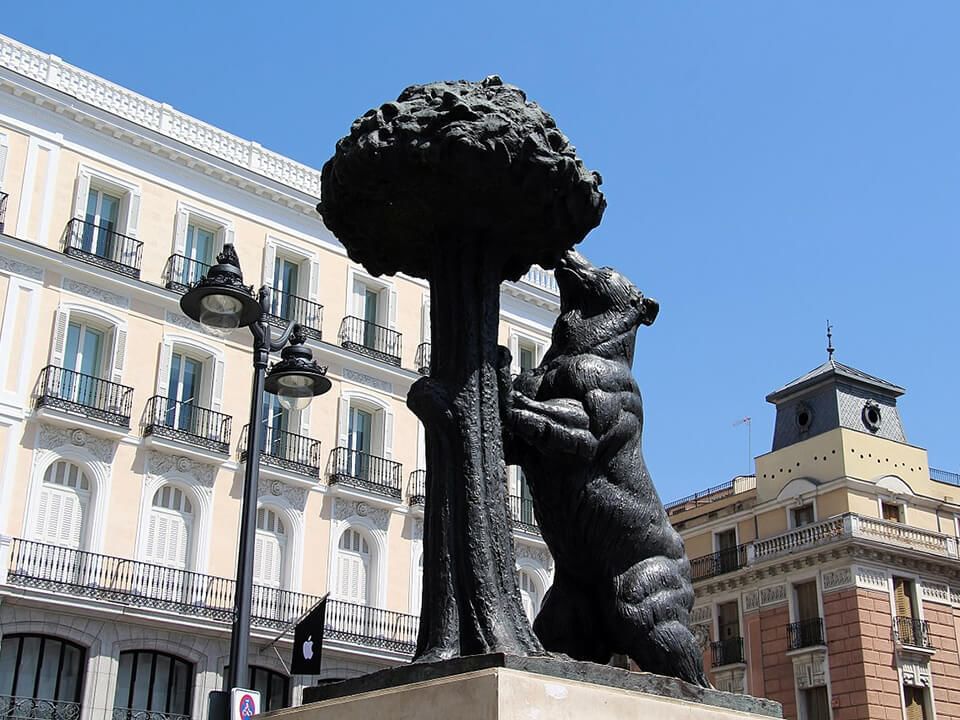 A visit to the Puerta del Sol is certainly essential, but it is also practically unavoidable. Located exactly in the centre of Madrid, it contains such iconic images of Madrid like the statue of the Bear and the Strawberry Tree and the Kilometre 0 mark, which is the perfect starting point for a tour of the capital's main sights.
From Sol you can go along Calle Arenal with the Galerias Preciados until you come to the Plaza de Ópera. This is where you will find the Teatro Real, with its packed theatre programme featuring many Operas. You will only be a few steps away from the Royal Palace and the Almudena Cathedral, two of the most impressive buildings in Madrid.
Visitors with a taste for history will love the nearby Templo de Debod, an Egyptian temple dating from the 2nd century BC that was declared a Heritage Site in 2008.
To continue exploring the centre of Madrid, head back towards Sol and take Calle Alcalá to the majestic Puerta de Alcalá, one of the five royal entrances to the city. The Cibeles fountain and the marvellous Buen Retiro park are both within easy reach.
Visitors with an eye for culture will be drawn to the Golden Triangle, where you will find the three most important art museums in the city. The Prado, Thyssen and Reina Sofía Museums are all located on the Paseo del Prado, following it will take you to Calle de Atocha.
Chueca and Malasaña, the two coolest barrios in Madrid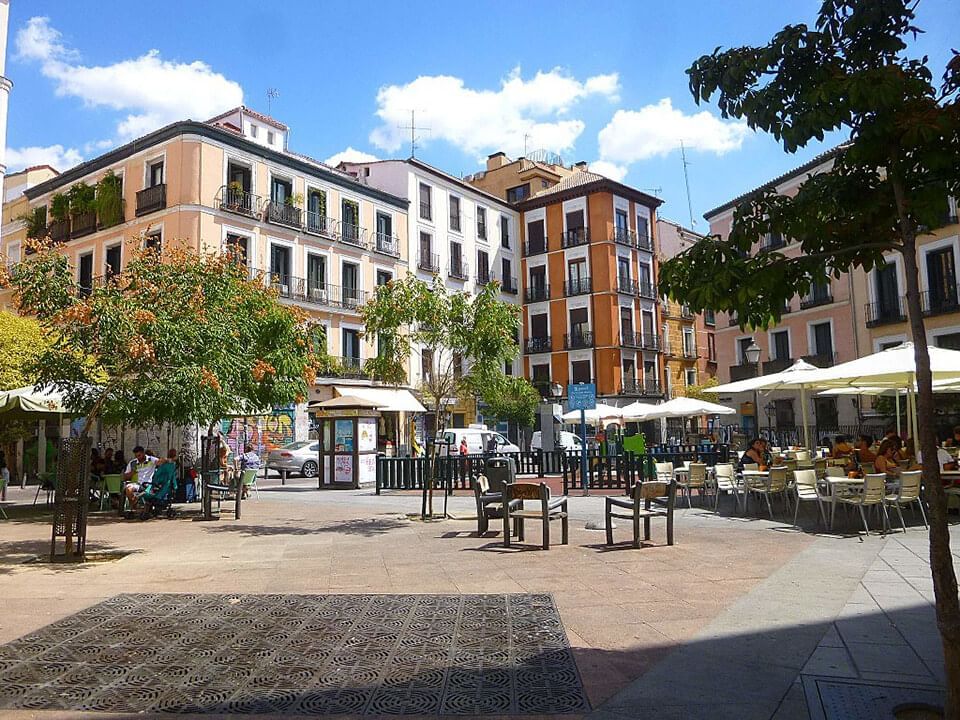 Madrid is so much more than culture and history. If you want to understand its city life, you really need to visit the famous barrios of Malasaña and Chueca. While each has its own character, they are both home to large numbers of smaller shops, with Chueca full of designer and luxury boutiques while Malasaña is home to second-hand and vintage fare.
Similarly, both districts are ideal for making the most of the Madrid nightlife. Malasaña has more of a rock and roll ambience, with many concert halls, bars and pubs, while Chueca has some of the best discos and gay clubs.
We hope you liked the recommendations of Gran Hotel Ingles 5 stars in Madrid. I recommend you to read Exclusive galleries in Madrid.