What to see in Madrid in 2 days?
What to see in Madrid in 2 days? Well, there's plenty, making it the perfect destination for an unforgettable weekend break. Even though Madrid has too many secrets and attractions to count, a short stay is more than enough to enjoy the best of the Spanish capital.
Unlike other European capitals, you can easily discover Madrid on foot, with routes that are attractions in themselves. You may think it's impossible to discover our wonderful city in just 48 hours, but even after a short break in Madrid, you will definitely head home knowing you've made the most of your stay, desperate to come back and do it all over again.
Staying in an excellent, central location is key, giving you all the time you need to enjoy our city to the full. That's why our 5 star hotel in Madrid, located in the iconic Barrio de las Letras, right in the heart of the city centre, is the perfect place to stay.
What to see in Madrid in 2 days? If you're still looking for an answer, then you've found it right here; our guide is the ideal itinerary for all tourists in Madrid, making you fall madly in love with the city in just 48 hours.
Day 1
You've probably heard people talking about these amazing attractions hundreds of times before, but wondered how you could possibly see them all in one day. Starting from the Gran Hotel Inglés, you can take in all these astonishing sights on foot, enjoying a nice, peaceful stroll through the streets of Madrid. Then, after a long, tiring day's sight-seeing, relax and unwind in our gourmet restaurant, Casa Lobo, savouring the best of Mediterranean cuisine.
Gran Vía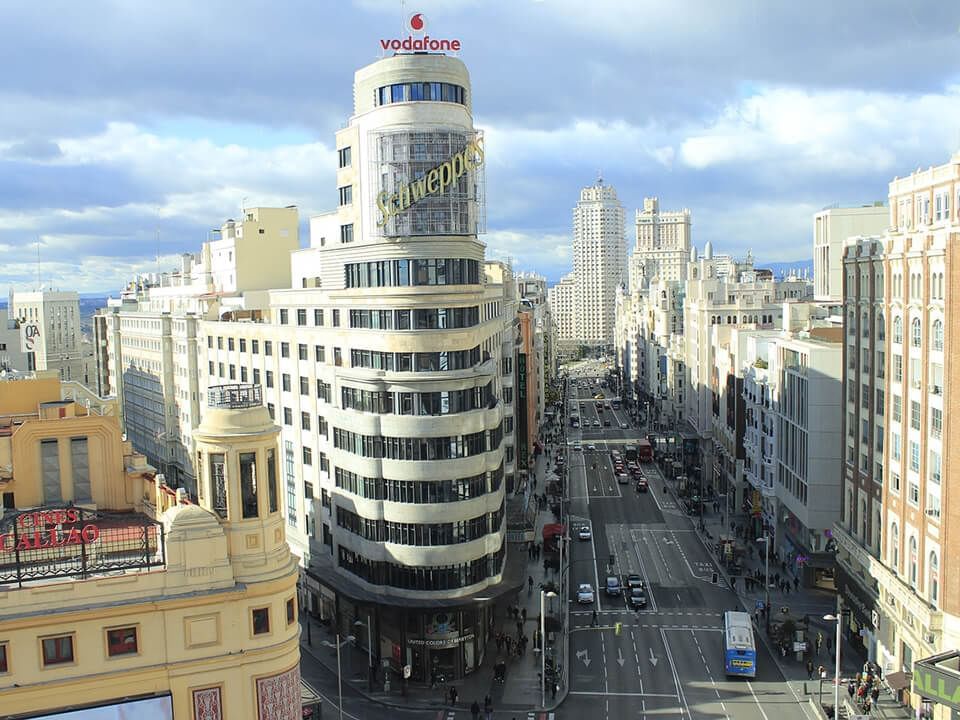 Start your 48-hour tour of Madrid with a nice, peaceful stroll along the city's most iconic street: Gran Vía. Famed for its cheerful nature and hustle and bustle, some of its stores have played an integral role in the history of fashion. Did you know that Loewe, the highly acclaimed Spanish fashion house, opened its first store in Gran Vía?
You will also see stunning architecture along this street in the form of its most renowned buildings: Edificio Metrópolis, Edificio Carrión and Edificio de Telefónica.
Puerta del Sol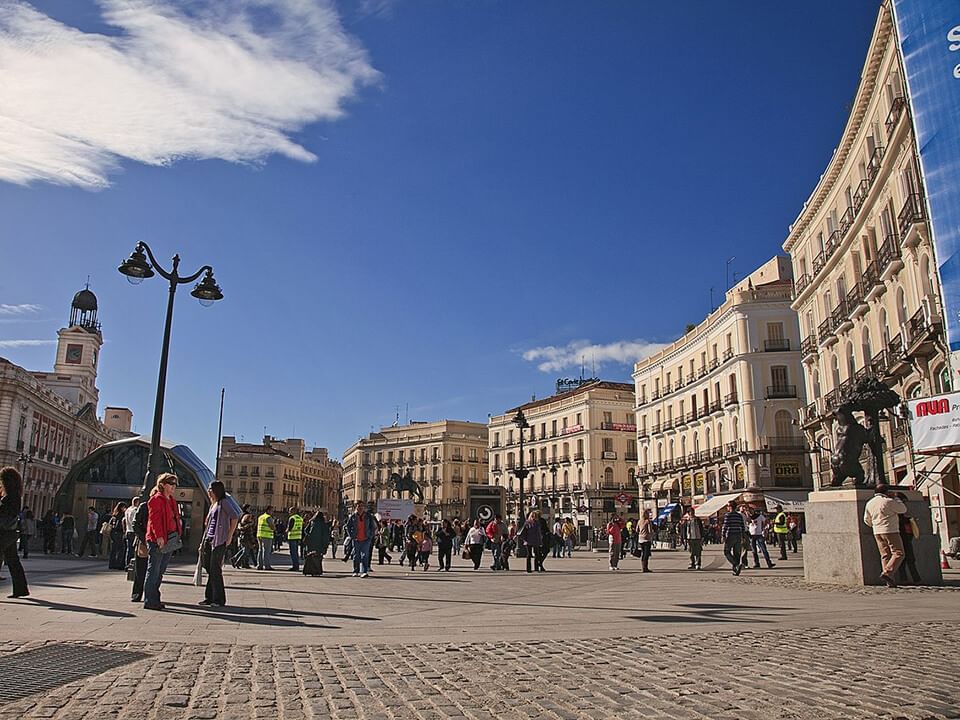 From Gran Vía, turn onto Calle Montera, where you will see la Plaza del Sol, a globally renowned square. Here you will find the famous kilómetro cero (ground zero), a reference point used to measure Spain's six major motorways from the centre of the capital.
You will also see the illuminated "Tío Pepe" (Uncle Pepe) sign, promoting the sherry brand of the same name, and the "Oso y el Madroño" (Bear and the Strawberry Tree), a statue representing the coat of arms of Madrid, which was erected in the second half of the 20th Century.
Calle de Preciados and Calle del Carmen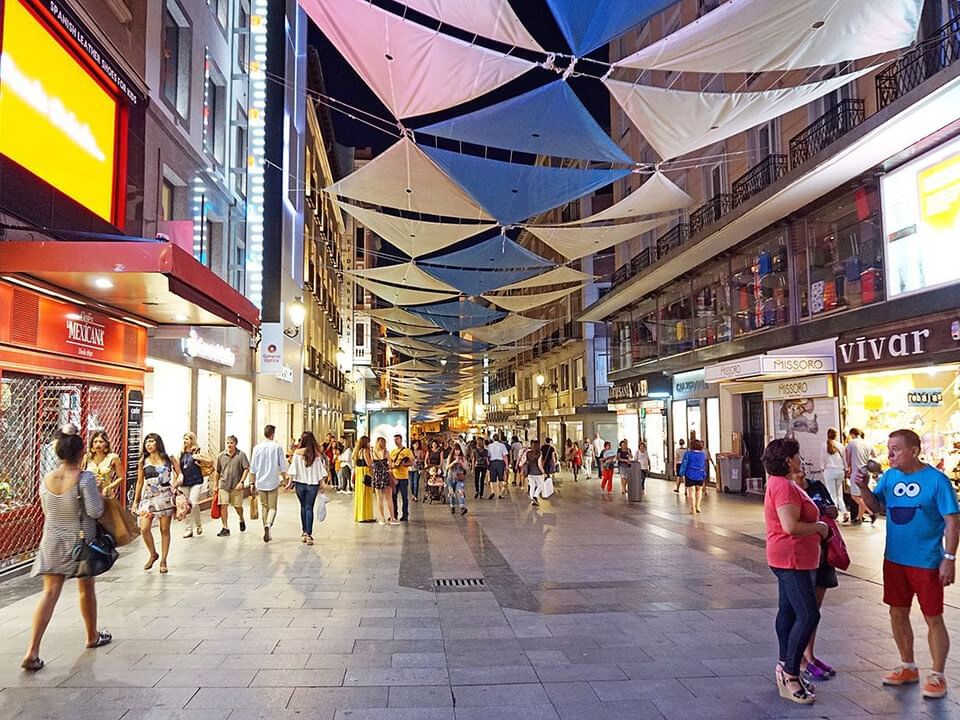 La Plaza del Sol leads directly on to Calle de Preciados and Calle del Carmen, two of the most popular streets in Madrid. At the end of these streets is Plaza de Callao, home to one of Madrid's most spectacular viewpoints, which is located on the top floor of El Corte Inglés and to which entry is free. This square also features the incredible Edificio Capitol and its famous Schweppes sign.
Once renowned for the Galerías Preciados, a Spanish chain of department stores named after the street itself, and the former go-to place in Madrid for shopping enthusiasts, Calle de Preciados is one of Madrid's most fashionable shopping streets. Meanwhile, Calle del Carmen is home to Doña Manolita, Madrid's most famous lottery ticket seller, where people flock from all over to buy their tickets for Spain's famous Christmas lottery, El Gordo.
Plaza Mayor
As you make your way down Calle Mayor from Plaza del Sol, you will reach Plaza Mayor, a Spanish National Heritage Site (Patrimonio Histórico de España) and a perfect example of Herrerian and neo-classical architecture.
Indulge yourself in the tremendously tasty tapas served by the highly authentic bars in this square, which you can wash down with the finest coffee or a nice pint of beer.
Mercado de San Miguel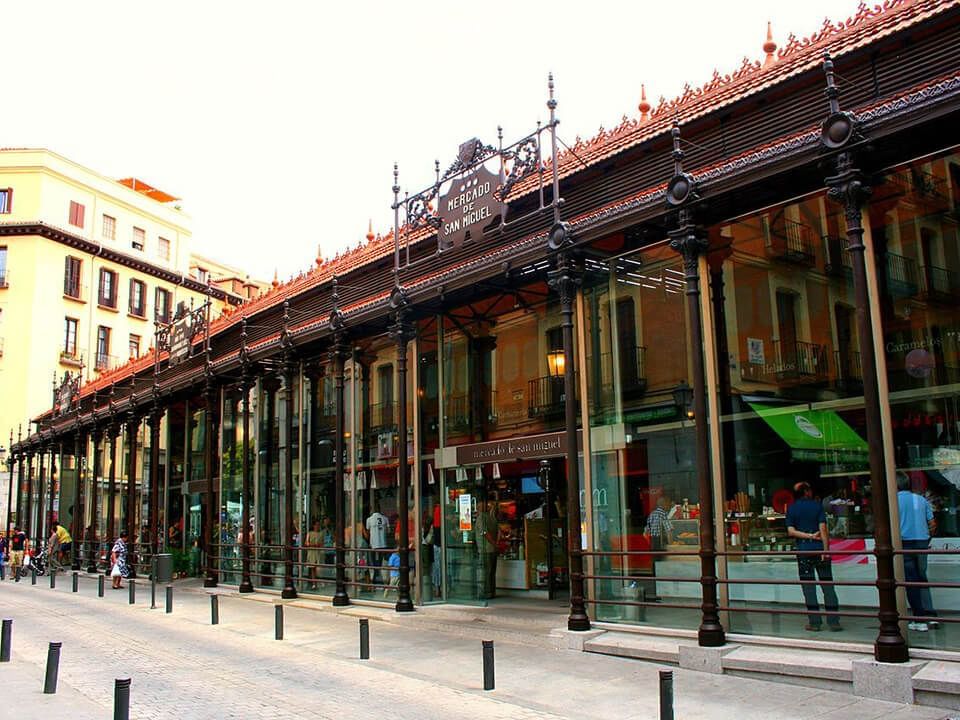 El Mercado de San Miguel (San Miguel Market) is one of Madrid's most stylish markets, cooking up a whole host of culinary delights, both local and international.
Madrid's markets are one of its greatest treasures, with plenty of delicacies to take away. However, people would normally tuck into these fine foods at the market itself.
Catedral de la Almudena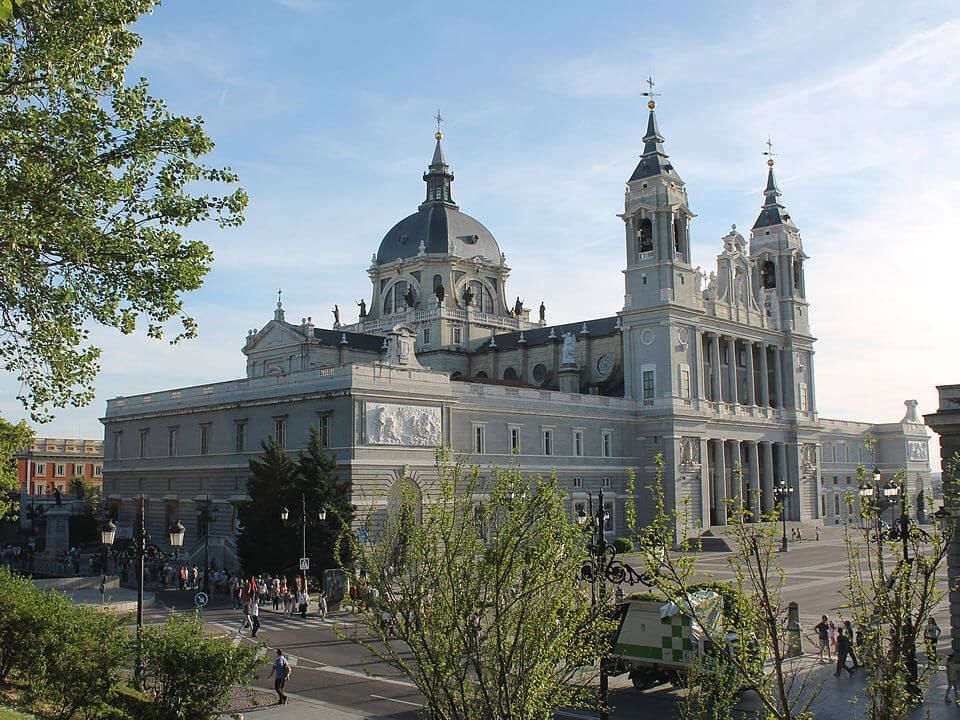 There are hundreds of churches, basilicas and cathedrals in Madrid, but La Catedral de Almudena (Almudena Cathedral) is by far the most impressive of them all.
This cathedral, which took around 100 years to build – its construction began in the late 19th century and was not completed until the late 20th century – boasts various architectural styles: a neo-classical exterior, a neo-gothic interior and a neo-Romanesque crypt. Don't forget to go up to the cupola, which offers stunning views of the city.
Palacio Real and Jardines de Sabatini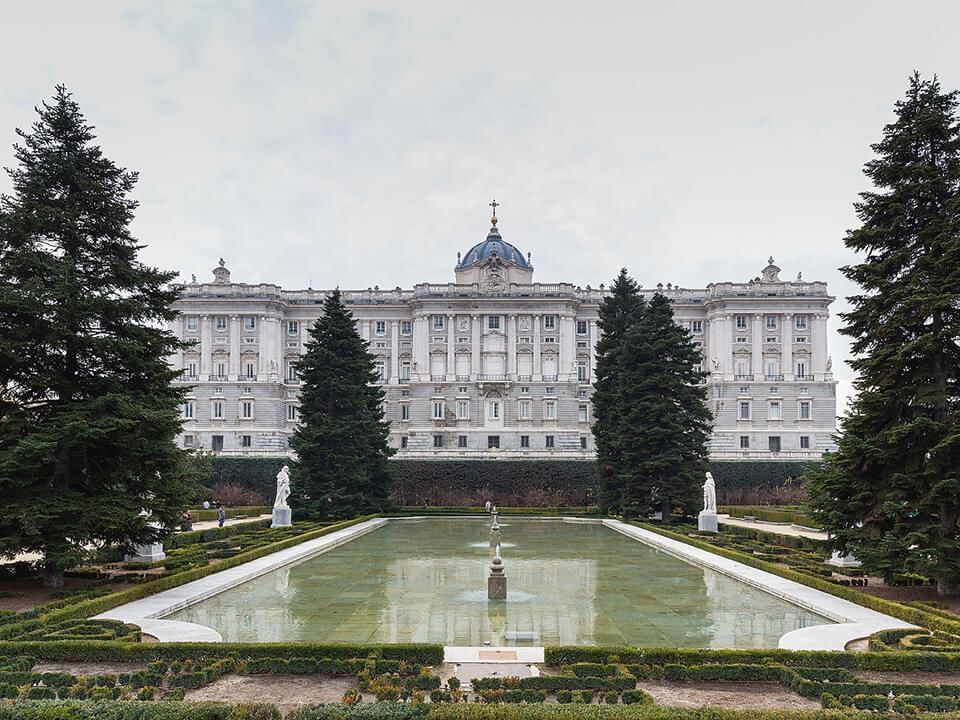 Opposite Almudena Cathedral stands the highly impressive Palacio Real, one of Madrid's major monuments. It's the largest royal palace in Western Europe and one of the largest palaces in the world.
Bask in the delight of its exterior before discovering the outstanding historical and artistic heritage inside, including a spectacular armoury.
You can also enjoy a free visit of the Jardines de Sabatini (Sabatini Gardens), a stunning, palace-inspired green space.
Templo de Debod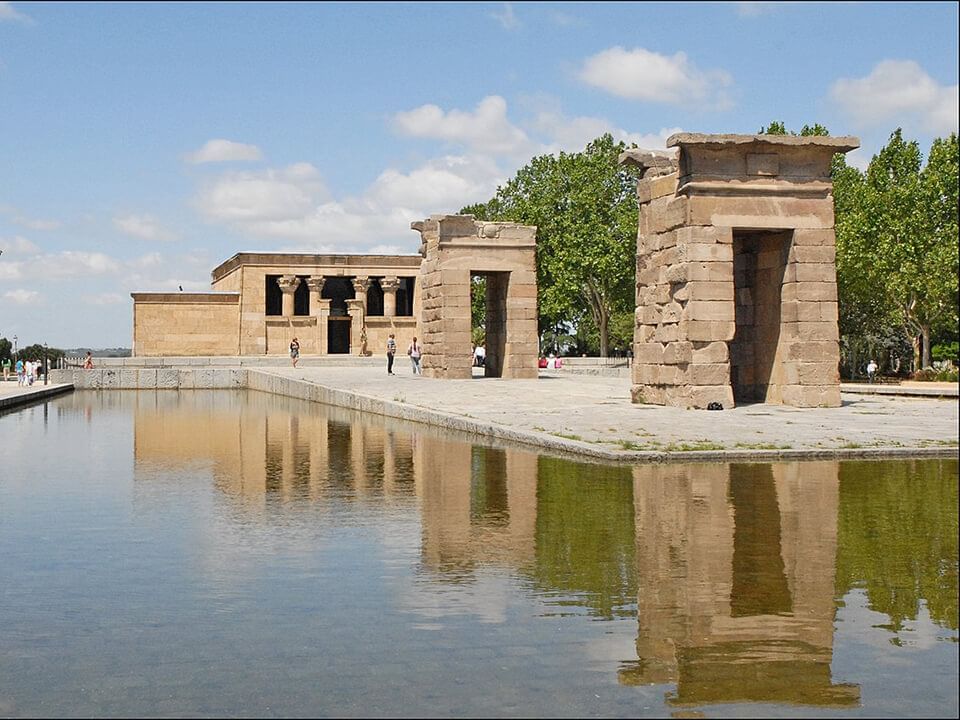 End Day 1 of your city tour with a visit to the magical Templo de Debod (Debod Temple), where you can experience the Madrid sunset in all its glory.
This Egyptian temple, which dates back to 200 A.C, was gifted to Spain by Egypt in 1968, as a token of gratitude for the Iberian nation's efforts to save Abu Simbel, who almost drown in the waters of the Great Aswan Dam.
Día 2
On Day 2, you will discover some of Madrid's most iconic monuments, winding down in its many green spaces, immersing yourself in the local culture and rounding off your experience with a nice bit of souvenir shopping.
Plaza de España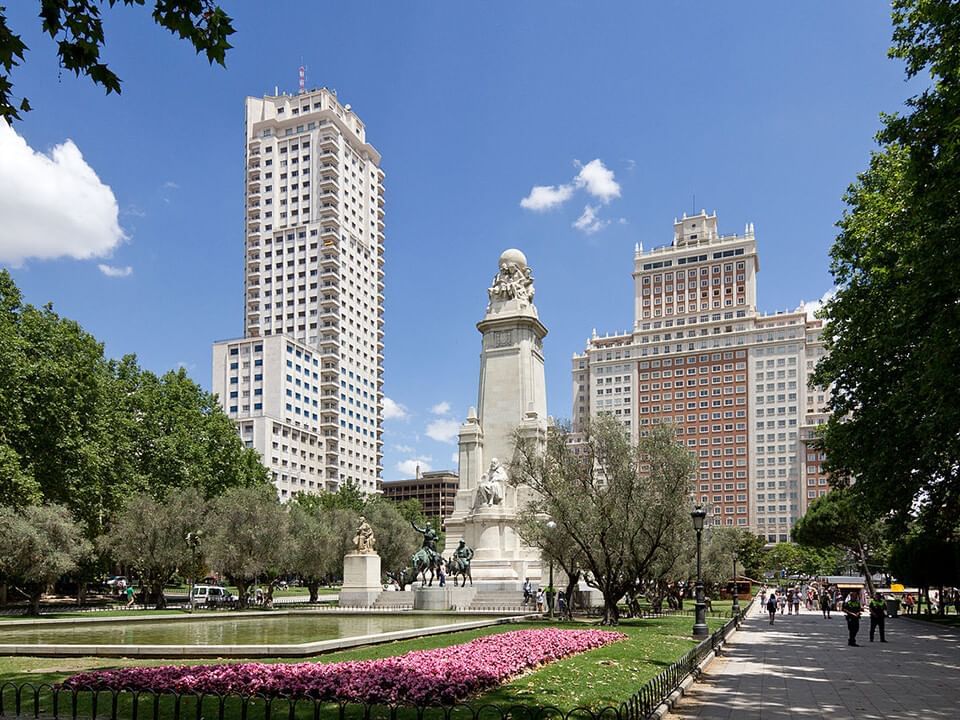 Plaza de España is one of the largest squares in Madrid, marking the start of the iconic Gran Vía.
Marvel at the wonders of the historic buildings and monuments surrounding this square, such as the striking and 142m-tall Torre de Madrid (Madrid Tower); the Miguel de Cervantes Monument; Casa Gallardo, a modernist building; and the Royal Asturian Mining Company building (Compañía Asturiana de Minas).
Jardín Botánico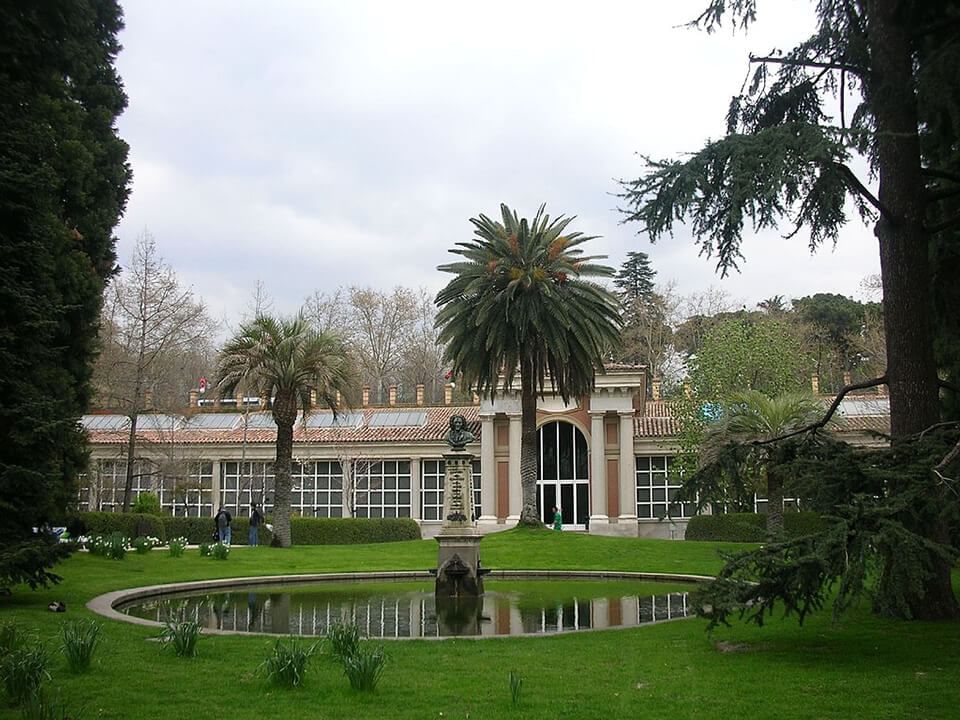 The Botanical Gardens (El Jardín Botánico) are a natural treasure located right in the heart of the Spanish capital, with a remarkable collection of 5,000 living plant species derived from the Americas, Europe and the Pacific, which are spread across four land terraces shaped to the naturally uneven terrain.
These magnificent botanical gardens also feature a library and an abundant archive containing almost 10,000 drawings. As you stroll through the gardens and pass its greenhouses, you will be able to read about the plants on display, learning interesting facts and discovering their history and peculiarities.
Parque del Retiro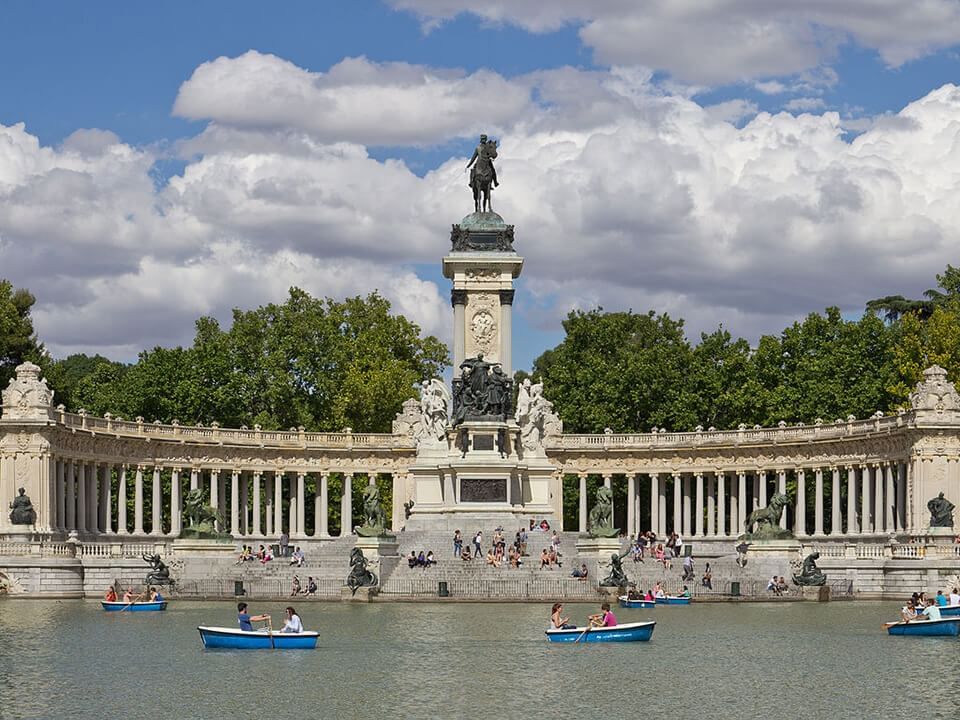 Visit el Parque del Retiro (El Retiro Park) on your second day in Madrid, where you can continue immersing yourself in the joys of nature. This must-see park, with its incredible green spaces, is the perfect location for an afternoon picnic.
Revel in the wonders of its beautiful lake, rowing your way through the centre of the park, before enjoying a panoramic view of el Parque del Retiro from the viewpoint just behind it.
You will also be amazed by the unrivalled beauty of el Palacio de Cristal (The Crystal Palace), with its peculiar, clear-wall structure.
Puerta de Alcalá, Plaza Cibeles and Fuente de Neptuno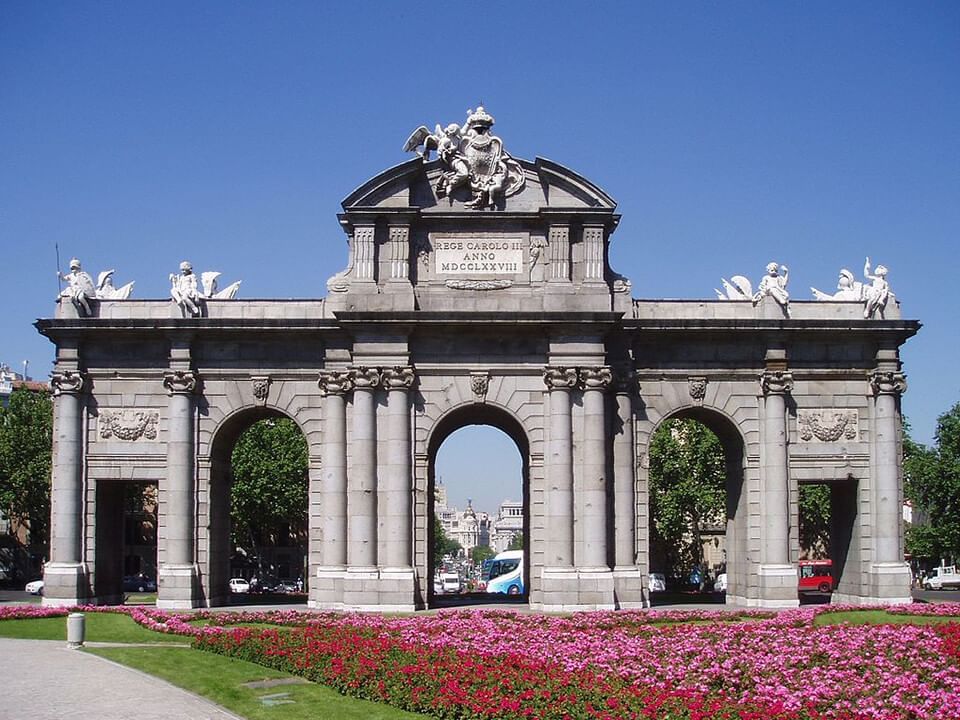 It you take the exit from el Parque del Retiro that leads to Plaza de la Independencia, you will see the famous Puerta de Alcalá right in the middle of the square. Inspired by Roman triumphal arches, this neo-classical-style gate used to be one of the five main entrances to the city.
If you go down Calle Alcalá, you will see the highly impressive Fuente de Cibeles (Cibeles Fountain) in the square of the same name, where el Paseo del Prado and el Paseo de Recoletos meet. If you carry on walking along el Paseo del Prado, you will find la Fuente de Neptuno (Neptune Fountain). Like the Cibeles Fountain, la Fuente de Neptuno is also inspired by Roman mythology.
Museo Nacional Thyssen-Bornemisza and Museo del Prado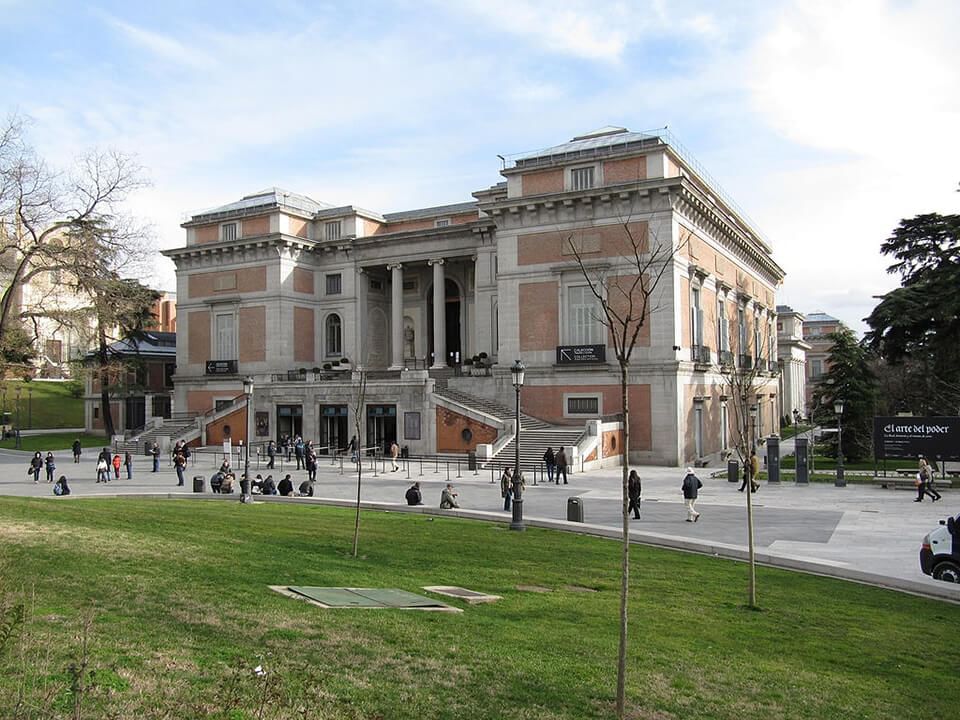 Visits to el Museo Nacional Thyssen-Bornemisza (Thyssen-Bornemisza National Museum) and el Museo del Prado (Prado Museum) are a must for all art enthusiasts. These two museums along el Paseo del Prado, together with el Museo Reina Sofía (Reina Sofía Museum), form the highly acclaimed Triángulo del Arte o del Oro (Golden Triangle of Art).
Together, these three museums showcase the evolution of art from the Middle Ages to the modern day.
If you need a slightly stronger dose of culture, we would highly recommend a visit to the nearby museo Caixaforum (Caixaforum Museum), which offers a wide range of fascinating temporary exhibitions. There is also el Centro Nacional de las Artes Visuales (National Visual Arts Centre), a modern, avant-garde arts centre located in the former tobacco factory, la Tabacalera de Lavapiés.
San Jerónimo el Real and Calle Serrano
If you carry on walking along el Paseo del Prado, you will end up in Calle Serano, home to la Iglesia de San Jerónimo (San Jerónimo Church). This former 16th century monastery was later converted into a parish church, partly inspired by neo-gothic architecture and featuring stained glass windows and Baroque-style cloisters.
In Calle Serrano, you will find some of the most exclusive brands and boutiques in Madrid, where you will be able to buy the most wonderful and memorable souvenirs.
Savour the very best of Madrid, with our proposed itinerary, and stay at our incredible hotel in the heart of the Spanish capital.